When:
November 17, 2017 @ 8:00 pm
2017-11-17T20:00:00-08:00
2017-11-17T20:30:00-08:00
Where:
Rainier Arts Center
3515 S Alaska St
Seattle, WA 98118
USA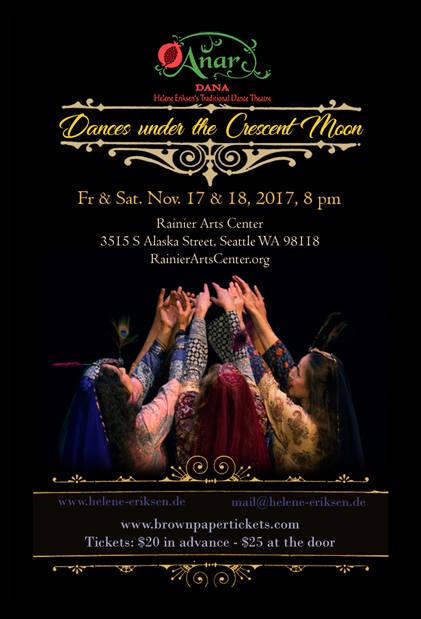 ANAR DANA: Helene Eriksen's Traditional Dance Theatre presents women's dance and culture from the regions of North Africa, the Middle East and Central Asia. ANAR means pomegranate and DANA seed; the name symbolizes the crystalline beauty of collective traditions…where each kernel is unique and luminous, yet together they form a fruit that is celebrated in the Middle East as a symbol of beauty, fertility and culture.
The ancient traditions of these predominately Muslim societies are largely unknown in the West and are disappearing quickly in our globalized world. Our view of the cultures of the Muslim world are skewed by clichés, deep seated fears and current wars. ANAR DANA brings these breathtaking and inspiring traditions into a new focus for a wider audience through professional dance concerts with spectacular music and costumes.
Each season of ANAR DANA, a new group of women begin on the 14-month long journey of ten intensive twelve-hour weekend workshops.
This year's repertoire includes following dances:
-"Tanovar" classical dance of Uzbekistan
– Qajar Court Dance of 19th Century Iran
– "Silent Dances", from Raanac on the Croatian Dalmatian coast
– Dances from Armenia – Zeybek dances from Aegean Turkey
– Dances of Assyrian People
– Dance of Sahraoui People of the Western Sahara
In addition Helene Eriksen, internationally renown dancer, scholar and choreographer will join them on stage with evocative solo dances.
Ticket Price(s): $20 in advance, $25 at the door, $15 for 12 and under